"CHRIST, BE OUR LIGHT"
I would like to welcome back all our faculty, staff, students and families as we venture into the 2018- 2019 school year. This school year we are very blessed to have Ms. Brackett joining us as the Middle School Religion teacher. She recently moved to Western Mass from New Hampshire.  We are very sad to announce that Mrs. Molitor decided to retire this year. We wish her a healthy and happy retirement. It is my pleasure to tell you that Mr. Michael Gill will now be teaching Physical Education to grades Pre 3 through 8. Mr. Gill has thirty years of teaching experience in the Holyoke Public Schools. In the ECC building, we are extremely happy to welcome back Mrs. Kelly McCoy who will be working in Pre 4 and Mrs. Ann Twohig who will be assisting in kindergarten.
The teachers and staff have been working very hard to prepare for a fantastic year. As we move forward to this new year, we can look forward to many exciting changes. With the donation of five Promethean Boards, the teachers will be able to expose the students to an unlimited amount of learning possibilities in their classrooms. As always, we will be working endlessly to achieve the high quality of education that our school prides itself in.
To our new students and families, I wish to extend a special welcome to our school community. Thank you for entrusting us with your children and choosing a solid Catholic educational foundation for them. With the school and families working together as partners in education, your children will surely succeed in their new environment.
Please do not hesitate to contact me with your questions, concerns, or input of any kind. My door is always open.
Together we all make Blessed Sacrament School "A Positive Place To Be"!
God Bless,
Mrs. O'Connor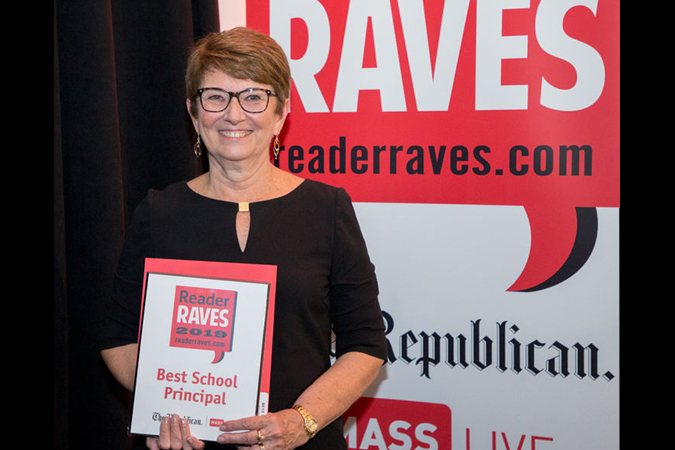 Congratulations to Principal Anne O'Connor for being voted Best Principal in Western Massachusetts by Mass Live/Springfield Republican Reader Raves for 2019 and 2020.  We are so proud of our Principal!   This award is well-deserved!