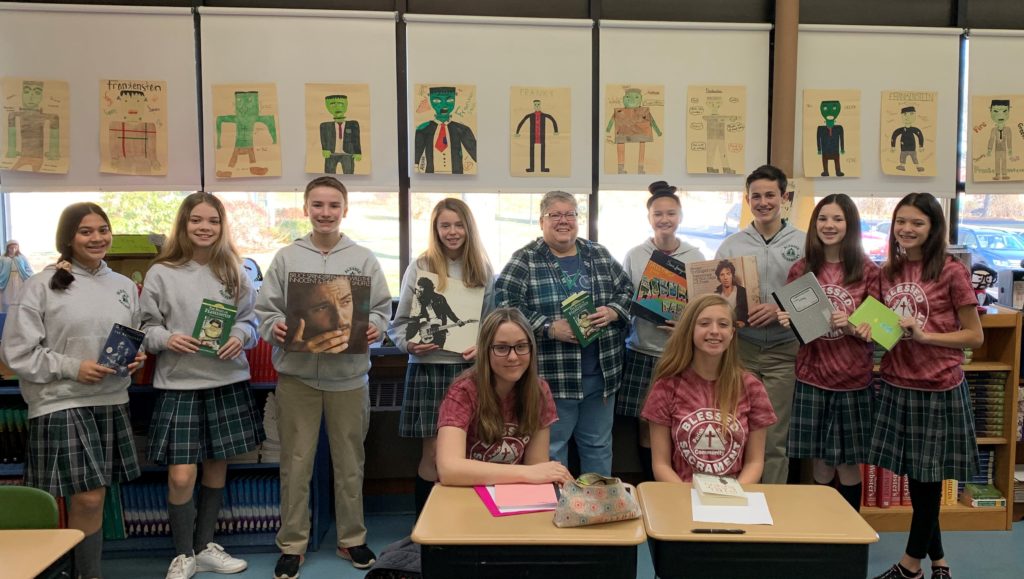 Mrs. Heavren is pictured with her 8th grade class during a Dress Down Day for charity. 
One of her favorite sayings is "Have a smile on your face and a song in your heart." Who is she? She is Mrs. Sue Heavren, our Grade 8 Language Arts and Grade 7 & 8 Literature/Writing teacher. Mrs. Heavren captured the attention of this interviewer recently when I took pictures of her 8th grade classroom for a website project. Upon meeting her, I believed she had a story to tell and indeed she does. Behind that endearing smile that greets all who know her is a very accomplished and fascinating woman. As with all our staff, we are so lucky to have her in our midst. 
Wonder why some of Mrs. Heavren's students are holding albums of Bruce Springsteen in the picture accompanying this article? Besides having a smile on her face at every turn, she does have a song in her heart...lots of songs...first and foremost, Bruce Springsteen songs. Mrs. Heavren is a Jersey girl at heart and a loyal fan of this New Jersey artist. She has been to over an impressive 40 Bruce Springsteen concerts including the show The Boss on Broadway. She was Born in the USA, specifically New Jersey, and still summers every year at the Jersey Shore. 
So how did she end up in Holyoke teaching at Blessed Sacrament School? When she was young, her father's job relocated her family to Holyoke. Her mother, Betty Robertson, worked in the Blessed Sacrament rectory for 25 years. 
Her love for dancing and music started early in her life. As a child, she performed Irish step dancing. She was one of the original students of Maureen McDermott. She still has her first Irish step dancing dress and shoes. The dress was blue wool with cream embroidery. The accompanying cape was the reverse with white wool and blue embroidery. This treasured dress reminds her of this special time in her life. 
Mrs. Heavren is a Blessed Sacrament School alum graduating in 1976. She also attended Holyoke Catholic High School graduating in 1980. An interesting fact was that she was stronger in Math than English in her early school years. She attributes Holyoke Catholic and Sister Marlene for cultivating her love of literature and writing. In addition, both Blessed Sacrament School and Holyoke Catholic High School taught her to set her standards high and she did just that. Another interesting fact is that she credits her 5th grade teacher, Karen Turcotte, for exciting her about the possibility of teaching as a profession. Karen was a student teacher at the time. 
Mrs. Heavren was a well-rounded student participating in lots of extra-curricular activities. She was a Girl Scout. In high school, Mrs. Heavren was in the Glee Club singing at Christmas concerts and Saint Patrick's Day masses. She was a class officer, a yearbook section editor, a member of the National Honor Society, Latin Club, and Recycling Club. She also played softball, volleyball and basketball for the Holyoke GALS from 4th grade up through high school. She notes she did not play basketball in high school. However, she has played softball for an impressive 20 years. Her position was pitcher. Mrs. Heavren brings this love of sports to her classroom. She has introduced Monday morning wake-up sessions to the beginning of her classes. These sessions are designed and led by students. These sessions have included such activities as exercising and even tai chi. 
After high school, Mrs. Heavren attended Providence College where she received her B.A. in English. There, she worked on the college newspaper writing feature articles and doing layouts. She also worked in the sports information office within the athletic department. However, the college memory that is nearest and dearest to her heart is the meeting of her college sweetheart and future husband, Tom. She and Tom have two children, Sarah and Tommy. Both children attended their parents' alma mater, Providence College. She is extremely proud of her children who have excelled in college and in life. 
Mrs. Heavren took 6 years off before receiving her M.Ed. in English secondary education from the University of Massachusetts in 1992. In this 6- year period, her work always involved writing. Her coolest job happened during the summer of 1984 when she worked 6 weeks at the '84 Summer Olympics in Los Angeles. It was her job in the college sports information office that led her to this amazing opportunity. She was a reporter/statistician for field hockey and was assistant to the venue press chief. She reported on 52 field hockey games in two weeks. It was a dream job for someone just out of college...actually anyone.  
After the Olympics, she worked in several communications positions where she continued writing.  She was a grad assistant at UConn in the athletic media relations department. She also worked for her local newspaper. 
After Mrs. Heavren received her Master's degree, she taught junior high school students at St. Joan of Arc School in Chicopee and also taught at Cathedral High School. Her professional goal has always been to help students become better writers. She believes every student can be a good writer. She accomplishes this goal by teaching students the writing process for all types of writing including essays as well as expository and persuasive writing. She did also say that her favorite subject to teach is poetry. 
So who does Mrs. Heavren like to read? She is a fan of Edith Wharton and Charlotte Bronte because their books contained strong women. She has met Mary Higgins Clark and enjoys the strong characters in her books. As for poetry, she reads the English poet Gerard Manley Hopkins. She is moved by his poetry that celebrates the glory of God and the blessings of strong faith, while addressing the struggles we face as we journey through our faith. Mrs. Heavren is a woman of strong faith and carries that with her as well in her teaching and in life. She has taught religion at Blessed Sacrament School from time to time. 
We are so fortunate that this dedicated teacher of studies, experiences, and faith eventually came to teach at Blessed Sacrament School, her alma mater. Mrs. Heavren came to Blessed Sacrament approximately 6 years ago. She loves the energy that 7th and 8th grade students bring to the classroom. She has loved every moment of teaching here just as she enjoyed going to school here. Mrs. Heavren has truly come full circle and it has been a blessing for our community. 
In her spare time, besides reading, Mrs. Heavren also loves bike riding and swimming in her pool in the summertime. She has a passion for photography. She creates photo calendars for her children of their life events.  She continues to look for cool and unique experiences that will help her grow as a person. She recently met Nelson Mandela's grandson, Ndaba Mandela, which was a special moment for her. But truth be told, her most favorite activity is going to the beach with her family every summer to her beloved New Jersey!
So now that Mrs. Heavren is an empty nester, what are her future personal goals? Heard of Cold Play, Boz Scaggs and Southside Johnny? These are just a few of the bands she has seen in concert and she plans to see many more. Of course, Bruce Springsteen is still at the top of her list. She and her husband want to keep checking off on their bucket list bands they have wanted to see in concert. Have you heard of tornado chasers? Well, she and her husband are classic band chasers. I personally want to see a photo calendar of all her future concerts. Don't you?